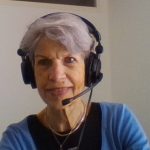 My name is Claudine. I have always lived and worked in the Paris area. French is my mother tongue. I have worked many years as a Marketing and Customer Service Manager, in French and international companies in Paris.
I have a degree in English from Paris X University and a degree to teach French as a foreign language (DAEFLE, from Alliance Française/CNED).
I started to teach French online seven years ago.
Like many of us, I have experienced the importance of speaking foreign languages, how it is a real benefit and a real satisfaction in a career  and in personal life as well. With new technologies, distance learning is a big opportunity for all of us to learn and speak new languages, more easily and more efficiently. I want to help you to achieve your French-speaking goals, and to give you as many tools as possible, as well as a continuous support.
Our common objective will be that you progress and meet your communication goals!
I am looking forward to meeting you soon!  To contact me, please send me an e-mail to : contact@onlinefrenchtutor.fr
Claudine

Whether you start from scratch, brushing up on your French or have reached an advanced level…  learning or progressing will require some efforts on a regular basis, but it will bring you so much satisfaction !
Speaking a foreign language is key to discovering new cultures: you can communicate  with new friends and share new ideas. You feel more confident and more at ease with your environment when you speak the language, you have a better and easier access to the culture of new countries, you can read the news, share conversations and you're just proud of what you have achieved…
I would like to help you to progress in French. You will speak a lot and you will also chat about French culture – depending on what you are interested in.  You may discover nice places to visit in France or things to do for your next trip in various places!… In all cases I hope that  you will like it!
A bientôt !
Go to : Book your courses