Bonjour et bienvenue !
You want to learn French, practice and improve your French and train to speak fluently…
I am a certified French native tutor, fluent in English and living close to Paris. My name is Claudine. I am keen to help you to achieve your French-speaking goals (personal or professional) and give you as much support as possible.
I propose French sessions online (Skype, Hangout) in a stress-free and friendly atmosphere in order to fulfil your learning needs.  I started online French classes seven years ago now : they are efficient, practical and flexible (you can connect from anywhere in the world, when it suits you best, including week-ends.)
French conversation sessions, as an example, are a good opportunity for you to practice, speak, argue… this is certainly one of the best ways to  take advantage of having a native tutor online !
All lessons are individual and customised to your needs (conversation, grammar, vocabulary, pronunciation, written French, etc.).
You can choose between conversation sessions or classes including more grammar / exercises, or more written French… In all cases, 60 minutes or 30 minutes lessons (or other durations). Shorter sessions are also available.
You can benefit of special prices if you choose packs of 5 or 10 lessons.
This website -OnlineFrenchTutor- will give you an overall idea of the benefits of online learning.

You are interested, want to know more,
or would like to test the free lesson ?
Please drop me an email: contact@onlinefrenchtutor.fr
We can set up a slot to chat on Skype or Hangout and, if you like, agree on the date and hour of a free trial session, there is no commitment on your part.  Then you will decide if you would like to continue.
The free trial session is a good way for you to see if this learning approach fits with your needs.
A bientôt !
Claudine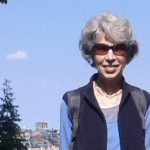 Take advantage of online learning with a native French tutor!
-Convenience : you can practice from home or any place that is convenient to you.
–Personalised sessions: all classes are individual.
–Focused learning : you learn and practice according to your needs.
–Flexibility : you choose the time slots that suit you best, including week-ends.